Online casinos, slots and poker are very popular in Kenya. Hundreds of different gambling sites are available to users of this African country on the Internet. But mostly with foreign jurisdiction. Online casinos in Kenya usually do not receive local registration. This decision is due to too high taxes, legal requirements and partly the state monopoly.
How gambling and online casinos with the best payouts have developed in Kenya
For a long time land-based gambling was absolutely legal in Kenya. Therefore, it is not surprising that today you can visit various casinos in the country. But online casinos operating in the region prefer to register in foreign jurisdictions.

According to current statistics from the Betting Control and Licensing Council, Kenya receives about $8 million a year from the gambling market. At the same time, Kenya is considered the third country on the continent in terms of the prevalence of gambling, second only to Nigeria and South Africa.
Best Land Based Casinos in Kenya
Casino
Location
Contacts
Description
Other Features
Casino Flamingo
Rustenburg
+254 735 257777
[email protected]
The largest casino in the entire country. The casino is located in Nairobi. Great selection of slot machines including slots, blackjack, poker, and roulette.
Open 24/7
Golden Key Casino
The Tamarind, Mombasa 80100
+254 414 471071
[email protected]
Casino from Mombasa. In addition to the casino, guests can enjoy a hotel and a restaurant here. 11 blackjack tables, poker tables, 50 slot machines, roulette.
Open 24/7
Captain's Club & Casino
Kellico Complex, Mombasa Road, Nairobi 00606
+254 208 134883
[email protected]
The casino is conveniently located near the 5-star hotel. Traditionally one of the most prestigious places in Nairobi. 55 slot machines are available here. Among others, Texas Hold'em, Roulette, Blackjack.
Open 24/
Mayfair Casino Nairobi
15 Parklands Rd, Nairobi 00623
+254 725 884218
With confidence, this casino can be considered one of the most popular and interesting in the whole country. Blackjack, roulette and poker are available here. Casino with some of the highest payouts in the country.
Open 24/7
Senator Casino Mombasa
Moi Avenue, Mombasa
+254 734 520905
[email protected]
A fantastic place for fans of slot machines – about 70 different games. Also available are five game tables, a buffet, and a bar. Nearby is a comfortable hotel.
Open 24/7
In total, 30 different operators of land-based casinos operate in the country, offering services to the population and guests of the country. Most land-based casinos are based in 4 cities. The largest of them is in the city of Nairobi, combining 15 game tables, more than 160 slots, and two poker tables. Also, many illegal slot machines are available to those who wish in local retail stores.
Online Casino with the Best Casino Payouts – Situation in 2023
98% of the local population has access to the Internet from a mobile phone. Therefore, playing in online casinos in Kenya has become as easy as possible. Many young people often spend their free time in various betting companies.
To curb the excitement of the local population a little, the government approved a high tax for players and operators. Including players need to pay 20% of their winnings to the budget. For local operators, the tax amounted to 35%. Because of this, many companies have decided to stop their activities in the country.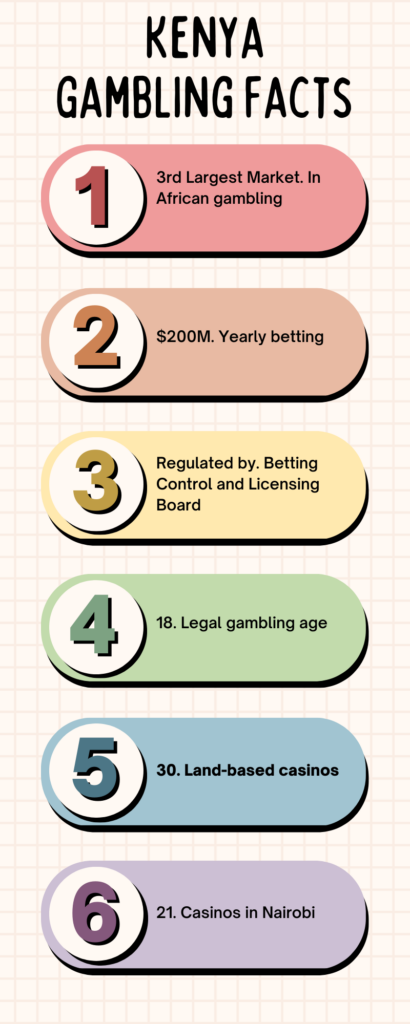 Therefore, the government decided to reduce the tax to 15%. Although in the near future there may be an official ban on advertising local gambling. But even now, there are big restrictions and taxes in the segment of online casinos and slots with the best payouts. Therefore, there are no online casinos in Kenya that officially offer services to local users. All high payout online casinos at Casino are officially registered in foreign jurisdictions.
Laws and regulations of online casinos with the best payouts in Kenya
Kenya does not have a single law governing online gambling. It is assumed that these norms are enshrined in the Law on rates, lotteries and gambling of 1996. According to this document, online casinos here remain strictly under the state monopoly. But at the same time, all online casinos in Kenya are registered in foreign jurisdictions. And the government of Kenya does not plan to do anything – it will not block sites.

Therefore, users have absolutely unlimited access to the best online slots and casinos in Kenya. But to be sure of security, we recommend that you carefully select a reliable site that you can trust.

Of the real local government restrictions for online casinos in Kenya, there is an age threshold. Only users over the age of 18 will be able to play at online casinos in Kenya.
How to choose the best Online Casino Sites in Kenya
Online casinos in Kenya can be accessed from almost any device – smartphone, laptop, computer. But still, we recommend that you carefully select the appropriate site for a successful game.

First of all, study the rating of the best offers on reputable sites. Make sure you have reliable licenses for the selected casino. For example, licenses of the Isle of Man, the United Kingdom, Alderney. All of them are considered fairly reliable documents confirming the stable operation of the selected site. Also, many online casinos in Kenya work with licenses from Gibraltar, Curacao, Kahnawak, Malta.

But sites with registration in Panama, Costa Rica or Belize do not inspire much confidence. Many experts are sure that such jurisdictions rarely check the reliability and quality of online casino services.

We also recommend that you study the information about the quality of service, the speed of customer support in the selected casino. An important selection criterion is the presence of demo games on the site in order to find out the functionality of the site and choose the most suitable option for yourself.

Other important parameters are the variety of available games, accepted currencies, registration requirements. For most users, welcome bonuses are also the most important criterion.
Popular Questions About Gambling in Kenya
How to choose the best online casino in Kenya?
When choosing an online casino with the best payouts in Kenya, we recommend that you study the data on reliability, ratings, welcome bonuses, available games and payment methods.
Are online slots and other gambling laws in Kenya?
All types of gambling today in Kenya are completely legal, regulated by the Betting Control and Licensing Board.
Do Players Have to Pay Tax on Online Casino Winnings in Kenya?
Players are required by local law to pay a 20% tax on their winnings. This amount will be deducted from winnings at any local online casino in Kenya.
Can I use Kenyan Shillings at online casinos in Kenya?
Some casinos offer this option. But you will need to pay for currency conversion. It is often more profitable and easier to use British pounds sterling or US dollars.